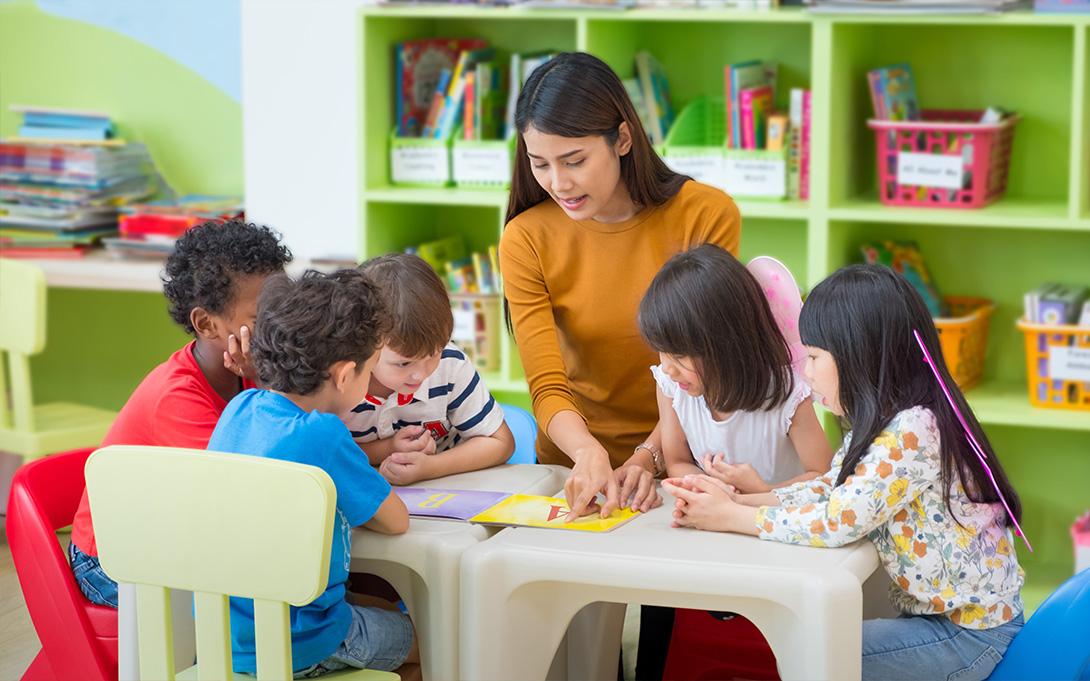 Every year the Strategic Data Project convenes more than 500 data strategists,  education researchers, faculty, and leaders to examine "what works in making evidence-informed change." The Harvard-led initiative chose "Battle Lines'' as the theme for this year's gathering in Chicago. How can data be deployed to quell the most contentious debates about education policy?
Against that backdrop, the Education Policy Initiative's (EPI) Boston Early Childhood Research Practice Partnership (RPP) was showcased as an innovative model for how to collect hard-to-get pre-k data. The RPP is a collaboration between EPI and the Marsal Family School of Education, the Boston Public Schools (BPS), the Harvard Graduate School of Education, and independent research institution MRDC. 
Annie Taylor, EPI senior data analyst, told a panel about the unique partnership. One of its most important characteristics is its longevity. Originally started in 2007, the RPP expanded in 2015, and continues today with the same primary leaders. That has led to a consistency in its mission, methods, and direction, focused on a strategic plan around the curriculum, instructional coaching, and teacher professional development.
"We're showing how you can do individual research studies or research projects and have them build upon each other to address key questions in the field and improve experiences for young children. All the data we get from BPS is around a specific study; all of our data agreements are for a specific study, but they build on top of each other," she explained, noting that BPS is at the core of all of their decision-making. 
She outlined the key principles of the RPP. "District questions are the priority; the district is in the driver's seat in designing its programs; coaches' and teachers' voices are essential; what you don't do is as important as what you do; and finally, trust is essential." 
Another benefit of the trust and longevity is that the RPP has been able to work with the district to improve its own data collection. "As they were building out the community-based pre-k enrollment system, we helped them align enrollment questions to the current BPS process, in order to create comparable child demographics across settings," Taylor noted.
One example of how they translate research findings into practice was a 2008 fast-turnaround study on whether the district should invest in supporting schools in meeting accreditation by the National Association of Education of Young Children. That investment could be $5,000 per school and the benefits were uncertain. Using Boston-specific data, they found that accredited schools did score higher on a classroom quality measure and that the children in accredited schools had significantly higher vocabulary gains. That research was used as one piece of evidence in the decision to expand accreditation in Boston and the research team also replicated the study in 2010 and 2015 to continue to monitor the investment Boston made.  
"We also develop tools in partnership with BPS. We found that existing teacher observational tools don't predict children's gains very well so we worked to develop a curriculum-specific tool," she added, giving the example of a curriculum fidelity tool that they developed in conjunction with instructional coaches. 
The RPP balances collecting the data, doing rigorous research, and producing timely, actionable work for the district. 
"That's kind of the goal. We produce rigorous peer-reviewed research, while also balancing the district's need to have a faster response to some questions. That is super useful to them," she concluded.
More news from the Ford School