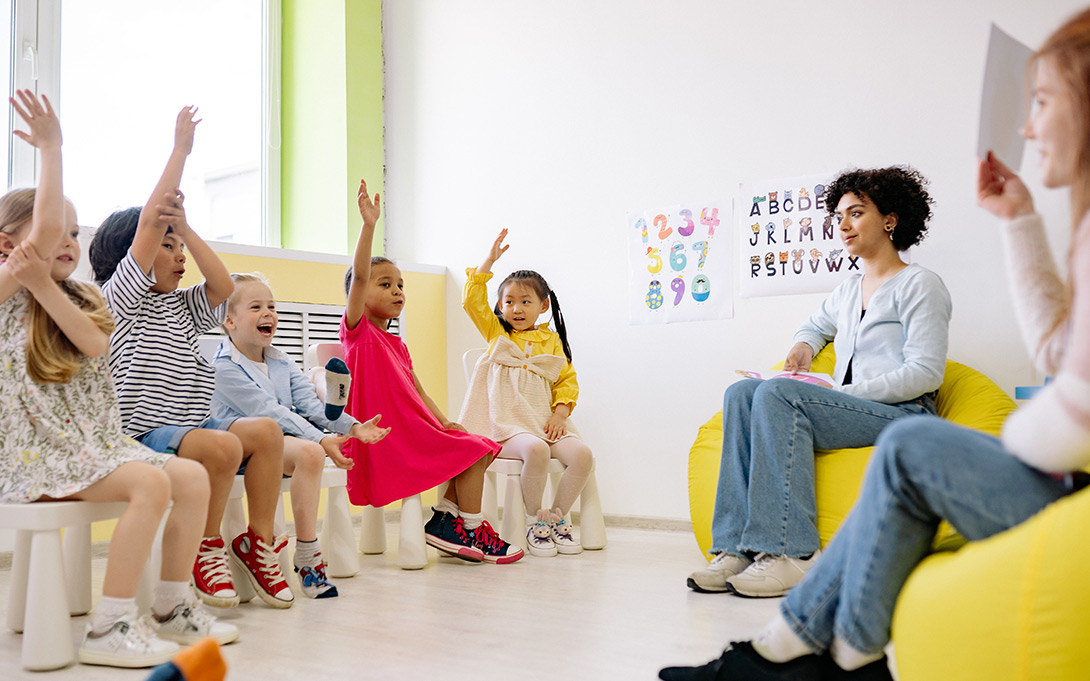 The next phase of one of the largest and most comprehensive studies of early childhood education launches this summer with a $1.5 million grant from the Institute of Education Sciences (IES), U.S. Department of Education.
The grant, funded by the National Center for Education Research (NCER), will support an ongoing study, which follows 12,740 children who applied to the Boston Pre-K program between 2007 and 2011. The Boston Pre-K program is somewhat unique in the national landscape as it uses evidence- and play-based language, literacy, and math-focused curriculum, pays teachers on the same scale as their K-12 peers, provides coaching supports to teachers, and is open to children in Boston, regardless of family characteristics.  The first students to experience the program are just reaching early adulthood, allowing researchers to estimate the impacts of Boston Pre-K on students' school progress, school engagement, academic achievement, educational trajectory, and educational attainment through age 20. 
The study also aims to describe students' experiences during the COVID-19 pandemic and explore whether the timing of the crisis held different implications for students in later high school grades versus middle school/early high school.
The research team will be led by Christina Weiland, Associate Professor at the University of Michigan School of Education and co-director of the Education Policy Initiative (EPI) at the Ford School of Public Policy, in collaboration with Rebecca Unterman, Senior Associate in the K-12 Education group at MDRC, and Anna Shapiro (EPI affiliate at the University of Virginia).
Weiland says the partnership with the Boston schools is especially important. "Our research will take place within the context of an established research-practice partnership. This partnership will help to make our research and research products more relevant to stakeholders and aid in communication. Our findings stand to inform public preschool decisions and investments in Massachusetts and other states," she says. "It's gratifying to be able to continue this successful partnership with Boston Public Schools and our colleagues at the University of Michigan and the University of Virginia," said Rebecca Unterman. "We look forward to discovering important lessons from this long-term follow-up, as well as to shining a light on how the pandemic has affected Boston students and families."
This work follows a previous IES-funded study of Boston Public Schools that looked at the impact of Boston's Pre-K programming on children's school progress in kindergarten through third grade. That study, conducted by Weiland with Rebecca Unterman (MDRC), Anna Shapiro (then at the University of Michigan), and Hirokazu Yoshikawa (New York University), found that Boston Pre-K participants were more likely to enroll in the Boston Public Schools but there were no lasting benefits on grade retention, special education placement, or third grade standardized test scores for the subset of children who competed for slots in oversubscribed schools. In the full sample, however, attending Boston Pre-K was associated with small but meaningful benefits in all examined outcomes through third grade. 
Findings from the new three-year study titled Longitudinal Impacts of the Boston Prekindergarten Program through Early Adulthood aims to inform debates and policy decisions not just about whether to offer universal preschool but what kind of preschool. 
This research will be entirely supported by the Institute of Education Sciences, U.S. Department of Education, through Grant R305A220036
More news from the Ford School