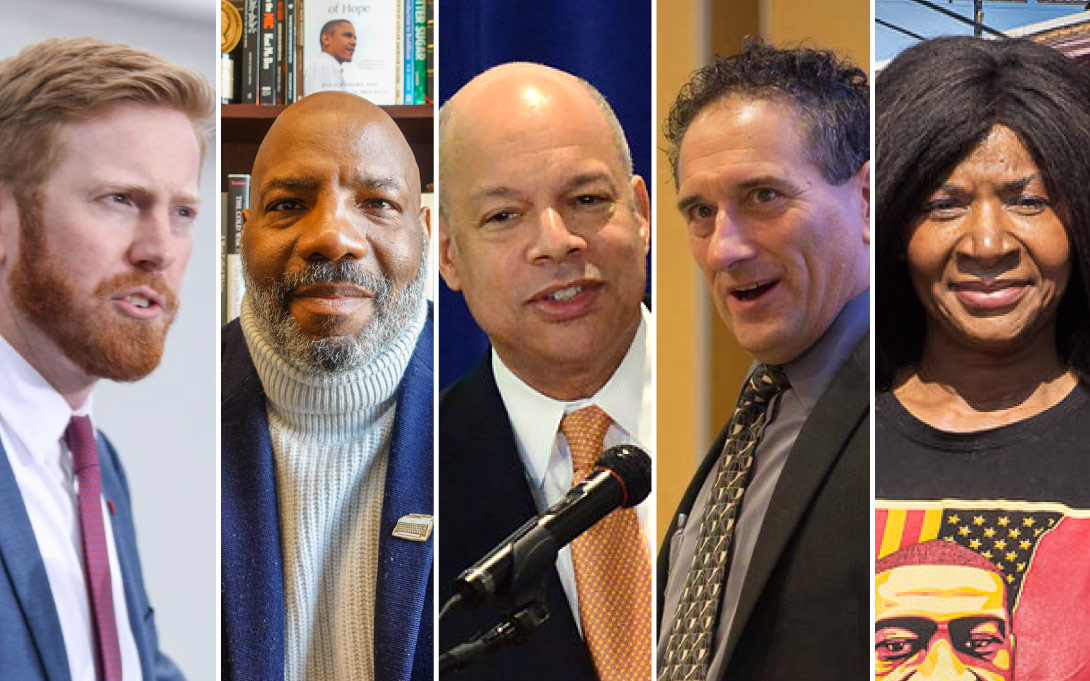 The Ford School is pleased to announce an exciting lineup for the winter 2023 Policy Talks @ the Ford School series and other special public events hosted with partners from across campus.
Events are free and open to the public unless otherwise noted. We hope you will join us for these special events and more happening at the Ford School this semester. Below is just a snapshot of what is coming up. Please visit our events listing for up-to-date information on all of these events and how you can register to attend. You can stay up to date on our events by joining our mailing list and following us on Twitter, Facebook, and Instagram.
January 12: In partnership with the Carter Center's Democracy Program and the Gerald R. Ford Presidential Foundation, former Michigan U.S. Representatives Andy Levin (D-MI) and Peter Meijer (R-MI) will sit down with the Ford School's Susan Page to examine how to buttress voter confidence in our democracy.

January 16: The Ford School presents a 2023 Rev. Dr. Martin Luther King Jr. Symposium event featuring the former U.S. Secretary of Homeland Security Jeh Johnson.

January 20: The Center for Racial Justice hosts their Masterclass in Activism featuring the aunt of George Floyd, author and activist Angela Harrelson.

January 24: The Democracy in Crisis: Views from the Press series continues with award winning journalist and dean of the Columbia Journalism School, Jelani Cobb, for a powerful conversation with Dean Celeste Watkins-Hayes on race, media, and democracy.

February 6

: The

Science, Technology, and Public Policy program

presents Indigenous bioethicist and geneticist

Krystal Tsosie

on community approaches to equity in genomics and health.


 

March 6

:

Ford School Towsley Policymaker in Residence and newly appointed Wayne County Health Director

Dr. Abdul El-Sayed

leads a conversation with

U.S. Rep. Rashida Tlaib

and

Michigan State Senator Stephanie Chang

to reflect on their work to address environmental injustice in Michigan and beyond, and the challenges and opportunities ahead.
More event series from some of our research centers: 
Blue Bag Lunch Talks at the Center on Finance, Law & Policy will continue on January 12 with Ford School Professor Catherine Hausman, "A policy proposal: Energy policy for innovation and economic growth."
The International Policy Center and Weiser Diplomacy Center will again offer a slate of events to foster thoughtful dialogue on international policy and foreign affairs, including book talks with Toby Harnden on March 9 and Will Inboden on March 13.
The Center for Racial Justice's new Racial Justice in Practice workshop series beginning February 2 will feature changemakers Holly Bass, Niketa Brar, Farah Mahesri, and Gabrielle Wyatt. A collaborative effort with the Ford School's Diversity, Equity, and Inclusion office, this series seeks to create active learning and skill-building opportunities centered on racial justice and diversity, equity, and inclusion for the Ford School and U-M community. Check back to the CRJ website for more information this spring.
The Education Policy Initiative's Education Policy Speaker Series continues, bringing together a diverse slate of researchers, policymakers, and practitioners to present cutting-edge research to improve education outcomes for children across the country. On January 24, join to discuss "Teacher Diversity and Student Success: Why Racial Representation Matters in the Classroom."
Questions? FSPP-events@umich.edu
More news from the Ford School